Download the ConferenceCall.co.uk Outlook-plugin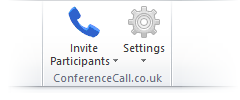 We've developed an Outlook-plugin to make arranging of your conference calls even easier!
The plugin adds our savvy email templates to your Outlook toolbar. Your PIN is added automatically and the templates will automatically update when we offer new international dial-in numbers!
Step-by-step instructions
If prompted, click 'Run' or 'Save'.
If you have saved the installer, double-click the installer file to start the installation process.
Follow the steps of the installation process.
You are done installing the Outlook-plugin.
Restart Microsoft Outlook.
The plugin will prompt once to enter your email address.
The plugin supports Outlook 2007, 2010, 2013 and 2016 for Windows.
Outlook-plugin for Remote Desktop
If you use Outlook on the server of your organization (ie. Citrix), you need another version of our Outlook-plugin. Your system administrator can install the Outlook-plugin with this installer file.